Since we started our Beta 1 in late July, we have received a lot of interest and invaluable feedback from our early users. With this step forward we are getting ever closer to our first public release.
Today, we are excited to release AfterNow Prez Remote Beta 2, our biggest update yet, which is full of new features and improvements. This release would not have been possible without the support and help from our beta users. So a big thanks to everyone who shared their feedback and suggestions.
If you are not yet in our beta and want to enroll, please do so here:
New GLB loader.
We have implemented a new GLB library to load and display GLBs in AfterNow Prez, which performs much better than the one we used before. It is not bulletproof as the Unity3D implementation of GLB from the Khronos group does lag behind, but we have successfully tested many low-poly 3D models from Sketchfab, as well as custom models exported from Microsoft Maquette. This new feature will make it easier for users find or create 3D content to add to their presentations.
GLB Animations.
If your GLTF / GLB model contains an animation, you can control when to play it in your presentation. You can access embedded animations from the GLB file in the standard animation settings. Here is a video that demonstrates how to use this feature:
New VR backgrounds.
Aside from background music, you can now also upload your own 360 pictures to serve as the virtual backdrop for your presentation. Please note, however, this feature only works on the Quest. We have created a few basic backgrounds to get started:
Space Station
Desert Sunset
Forest
Mountains
Aside from VR backgrounds, both VR and AR presentations can benefit from adding background audio as well. The following video shows how the Desert Sunset background mixed with a Wind soundtrack can add to the user's sense of immersion.
Video: Desert Sunset VR background
Network self-recovery.
We have added more notification messages and will now automatically reconnect participants in case of loss of connectivity or when the WiFi signal is low and the bandwidth drops. Whenever a user experiences a network interruption, a notification will appear and the app will attempt to reestablish the connection. Similarly, a confirmation message will display when the user has been reconnected successfully.
This feature will make the multiuser experience much more robust. It ensures that all users will remain in the session, even when their internet connection is less reliable.
Moved to a distributed storage architecture.
We use Minio as our storage back-end to scale and bring redundancy when we open AfterNow Prez to the public.
Self-guided presentations.
We recognize that not all presentations require a real-time multiuser setting to be effective. Sometimes, you might want to create a presentation for others to experience on their own time. For this new feature, we added a new toggle on the Web Portal: self-guided vs. presenter-led.
Self-guided presentations do not require the presence of the original creator. Instead, each visitor is granted presenter rights in a "single-player" setting, so they can observe and explore the content at their own leisure. For these types of presentations, it is recommended to use fully automated transitions in combination with voice-over audio files to provide an effortless experience for your prospect, student or trainee.
See who is connected.
Another exciting new multiuser feature is the ability to quickly see which users are in attendance. Guest users now have the ability to enter their name before joining your presentation. The resulting participant overview is displayed above the presentation content and includes useful information such as the user's loading status, mute status, and two more feature which will be discussed next.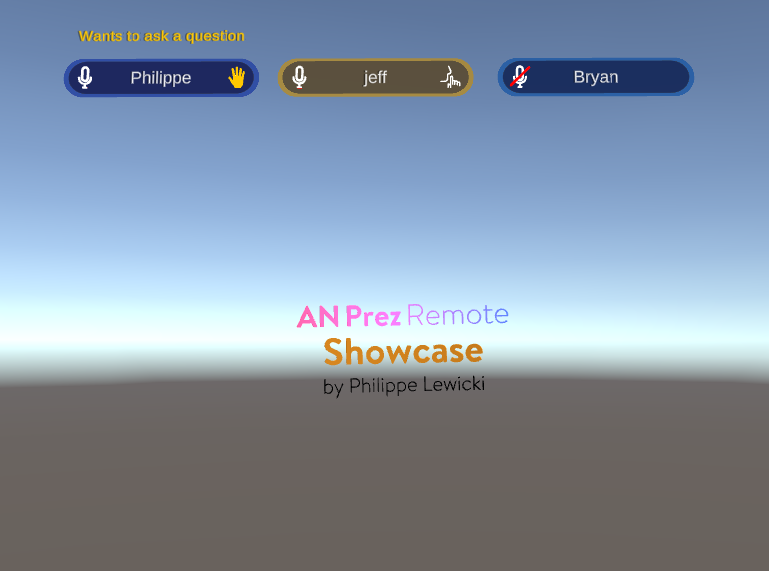 Mute all spectators.
One commonly expected feature in conference settings is the ability for the presenter to mute all spectators. When "silence mode" is activated, none of the spectators will be allowed to unmute themselves. When turned off, participants can once again freely unmute themselves to join the conversation.

Raise Hand feature.
The images above also reveal another new new feature: Raise Hand. At any point during the presentation, spectators can now "raise their hand" to draw the presenters attention without being intrusive. This feature is particularly helpful during silence mode, but can also be used to reduce verbal interruptions—allowing the presenter to address the question when it is a good time. As a fun bonus, we have utilized the MRTK hand tracking abilities to make this raise hand feature a basic physical action. Simply holding your hand up in front of you will trigger the function, no buttons required!
Video: Physical Hand Raise in action
Spatial audio.
Finally, it is important to acknowledge how localized sound can greatly add to the level of immersion. We have moved the speakers created for user's voices towards the center of the presentation content, so you will experience a more localized sound while looking around.