Intro
My name is Jeffrey Breugelmans, and I am one of the cofounders at AfterNow. Last September, I was accepted into the 2020 Oculus Launch Pad program after pitching our vision for AfterNow Prez as a barrier-breaking content creation tool for Mixed Reality. This program has recently concluded, and we are incredibly proud to announce that our app was among the 10 selected grant winners for this year. I want to take this opportunity to share my experience with Oculus Launch Pad over these past 9 months.
---
First of all, what is Launch Pad?
In their own words, Oculus Launch Pad is a program designed to support promising VR content creators from diverse backgrounds. The program, therefore, has a strong emphasis on promoting Diversity, Equity, and Inclusion (DEI) in the developer community.
At AfterNow, we pursue a similar mission by offering teachers and aspiring storytellers an easy-to-use platform to create immersive VR content—absolutely no coding knowledge required! Add to that that we are a productivity-based application—which Oculus team members highlighted as a very under-served market—and you can see why I instantly felt that this would be a great fit.
Program Timeline
The program comprises 4 phases, starting with a kickoff 3-day Boot Camp. This program was packed with meet-and-greets, alumni talks, and educational sessions covering areas such as VR Business Best Practices, VR Optimization, and perhaps my favorite topic: Universal Design.
Facebook traditionally hosts this event at their Menlo campus, and although I would have loved that experience, understandably, this rendition had to take place virtually.
The following week we each received a complimentary Oculus Quest developer kit as we attended Facebook Connect and gained early access to Facebook's new social VR platform: Horizon.
The image below shows an overview of the total program timeline.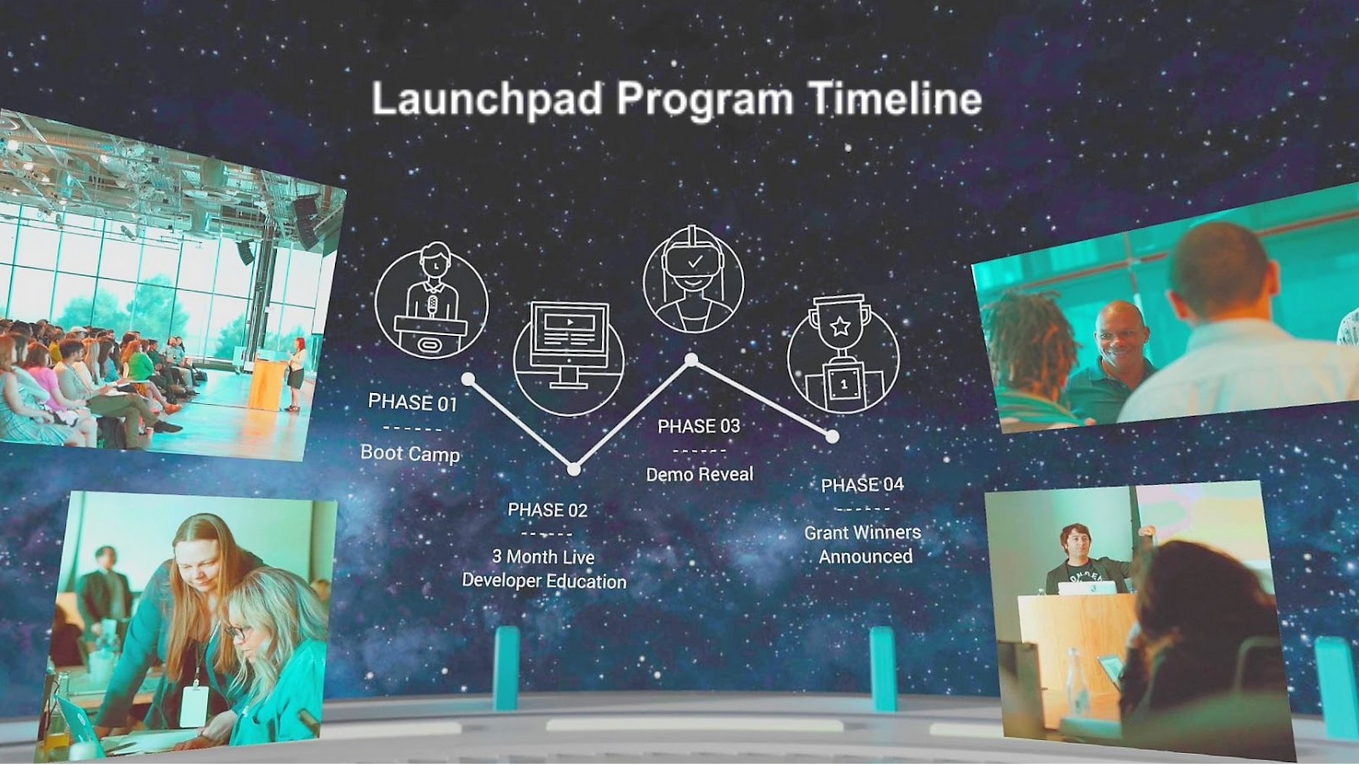 Phase 2 - The following three months were focused on additional development training and support, including an opportunity to ask questions during live "office hours" hosted on the Launch Pad Discord server. This was also a great place to connect with fellow cohort members, discuss the challenges we were facing with our app development, and ask for feedback or advice.
Phase 3 - By mid-February, it was time to submit our applications for official review. Our demo consisted of our AfterNow Prez Showcase presentation, as well as a custom Launch Pad presentation which I largely put together using content collected from the Launch Pad website. I wanted to build this meta experience to demonstrate our vision for the future of content. Why stick with 2D when you can build a much more engaging and memorable experience in 3D instead?
This video shows a quick look at how I built one slide inside this demo presentation.
Phase 4 - The final phase kicked off with Demo Day, which consisted of more educational talks and an opportunity to showcase our work. The absolute highlight, for me, was the special mention we received during the "Pitching and Showcasing Your VR Projects" session by Mari Kyle and Ted Dinola. In this segment [6:38-9:42], they praised our branding and focus on productivity, as well as the range of use cases and overall usability of our app. As our Product Lead and UX Designer, it felt particularly rewarding when Mari said that "[...] for a user, it made me feel like I was in really good hands."
It's all about community
Launch Pad perfectly exemplifies how Community is the cornerstone of success. Though the availability of grant money is limited, I never sensed a hint of competition among cohort members.
With the industry still in its infancy, there is an overarching sense that for anyone to thrive in this field, we first need the Mixed Reality space to succeed as a whole. And the best way to strengthen its foundation is to welcome multiple perspectives, invite diversity of thought, support our peers, and celebrate our collective achievements!
---
Final remarks
As Launch Pad grant winners, we will received continued support as we prepare to launch our app in the Oculus Store. As a part of this ongoing journey, we are now also enrolled in the next program - Oculus Start.
If you want to check out our app, you can find it as part of AppLab in the Quest Store by searching "AfterNow Prez Beta" or follow this link:
https://www.oculus.com/experiences/quest/3434684843326642/
and click purchase (its free) to add it to your library.
In the Microsoft Store for Hololens search for "AfterNow Prez Remote."
Once you have the app installed, you can visit the presentation I created for our Launch Pad Demo by selecting Guest Access and entering Presentation ID: 22615270 (as shown in the image below). Similarly, you can enter 99452018 to visit our more general "AfterNow Prez Showcase" presentation.
If you are an aspiring or early-stage developer and would love to see your app idea come to life on the Oculus platform, I highly recommend applying for the next iteration of the program.
Applications for Launch Pad 2021 are open through July 30, 2021.