We are excited to present our new product : AfterNow Prez
Over the past year we have built a lot of demos and, recently, we built full sales presentations of large and complex products (like radars or airplanes). Based on that experience and our desire to make this more accessible, we have decided to build an application that would let anyone create stunning presentations without technical knowledge.
We used the analogy with existing 2D flat presentation tools such as Google slides, Keynote and Powerpoint, in order to enable and shorten the learning curve to create augmented reality presentations.
AfterNow Prez enables users to turn their physical environment into a playground for communication by making it easy to create engaging augmented reality (AR) presentations.
It's perfect for sales demos, memorable marketing engagements and hands-on tutorials. Simply upload your 3D models, images and videos, physically placing them in the real world and then add beautiful transitions. Viewers can then watch your virtual presentation unfold in the real world.
We will initially support the Hololens and Microsoft Mixed Reality VR headsets. We are in discussion with Mira Labs and other headset manufacturers to port it.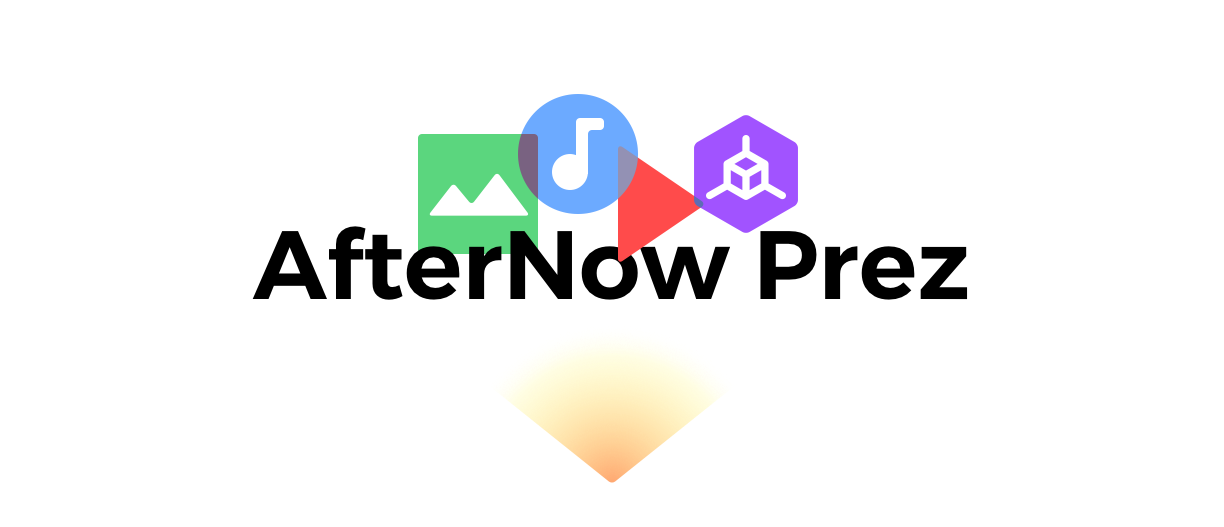 We have identified 4 different use cases.
Sales Presentation
This is in general a 2-3 person meeting. AR Glasses like the Hololens are easy to travel with. The sales team can bring a couple of device for a prospect, and drive an immersive presentation.
This use case is perfect for complex physical products that are too large to transport. It also works for complex technical or financial products where 3D, volume and space enable an easier way to present. Examples include complex advertising platforms with various interconnections between actors, or describing where a financial product fits in the marketplace.
We've identified that a clean and high quality augmented reality presentation has a stronger impact.
Meeting or Pitch Presentation
Each meeting participant would wear a pair of AR Glasses (Hololens), and the presenter would lead the presentation. This enables more constructive collaboration when creating 3-dimensional objects or concepts.
This can be internal or with a partner, conveying creative design pitches that involve 3-dimensional experiences such as architecture, construction, product design, games, landscape, interior design, VFX and movie concepts.
We suspect that more abstract presentations of content related to project management, financial models or data analytics will also benefits from a 3D dimensional view.
Tradeshow and Booth Presentation
Augmented Reality headsets are still mainly accessible at the workplace, and most people are not exposed to them.
Presenting your services or products using a pair of Hololens or other high-end AR glasses will definitely stand out.
Additionally, due to the spacial natures of augmented reality presentations, visitors will better remember the product or services presented.
If you are presenting complex products at your booth, AfterNow Prez can augment it to describe visually how it works. For example, describing the flow of fluids in a complex engine, pump or filter.
Exhibits and Showrooms
We implemented a special feature, AfterNow Prez for Hololens, where multiple locations can be defined.
Wearing the Hololens when the users arrive physically at that location, the presentation would then start. This enables the visitors to walk freely through a showroom or an exhibit and get an immersive multimedia rich experience from mixed, real and virtual objects.
If you currently use a presentation tool like Powerpoint, Keynote or Google slide to communicate, then you must give AfterNow Prez a try, because it takes presentations to an all new level.
Get started tutorial